Presbyterians have a long and honored tradition of promoting the education of its members. Our belief is that an educated disciple is a more effective disciple and witness for Jesus Christ. Equipping the saints for ministry is a core task of the church, one that we take very seriously at First Presbyterian Church. Offerings include age-appropriate classes for children as well as offerings for youth and a variety of classes for adults. Adult classes vary widely in age and focus. Adult learners are encouraged to visit the classes. Church membership is not a requirement for participation in Sunday School. Current offerings of our Education Department are as follows:
Share Sunday School Class
The Share Adult Sunday School Class meets in the parlor at 9:00 a.m. Its members use The Present Word published by the Presbyterian Church USA, a biblically based curriculum that follows the Revised Standard Lectionary. (The parlor is the room next to Fellowship Hall)
Ladder of Faith Sunday School Class
The Ladder of Faith Adult Sunday School Class meets in the church library. It is multigenerational, and focuses on contemporary issues of faith through Bible study, discussion and reflection. The class uses "The Wired Word" curriculum and  tend to approach issues of faith and life in fresh new ways. Visitors are always welcome. Come to the Church Library on Sunday mornings at 9:00 a.m. (The Library is the room closest to the coffee pots!)
Sunday Lessons at PJ's
A group of young adults meets each Sunday at PJ's Coffee shop at 9:15 am for a lesson in The Spot at 106 N. Washington Street.
Sunday School for Children
Sunday school is provided for children 2 years old and above. Classes are divided by age and age-appropriate materials are used in all classes. Pre-schoolers meet in the drama classroom on the second floor next to the Pre-K room. K-6th graders meet in the art room on the second floor near the adult choir room. Classes begin at 9:30 am and finish at 9:50 am.
Sunday School for Youth
The Youth; grades 7th thru 12th; meet for Sunday School in the Youth building on Jackson Street across from the church. The class begins around 9:00 am and finish at 9:50 am.
For more information regarding classes please call the church office 863-7144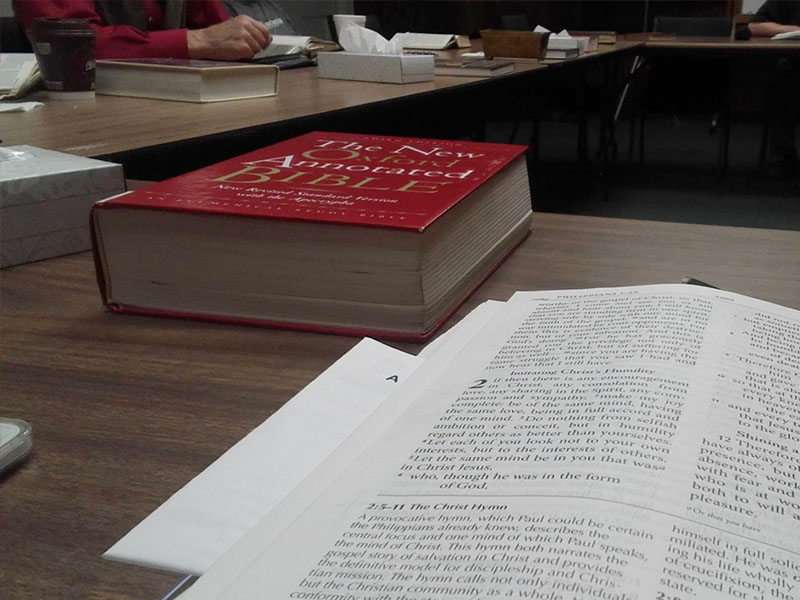 During the Week
Men's Study
Meets Thursday mornings at 7 am in the Church Library.
Women's Study
Meets Thursday mornings at 10 am in the Parlor.
Wednesday Studies
Wednesday activities include activities for a wide range of ages