Church Leadership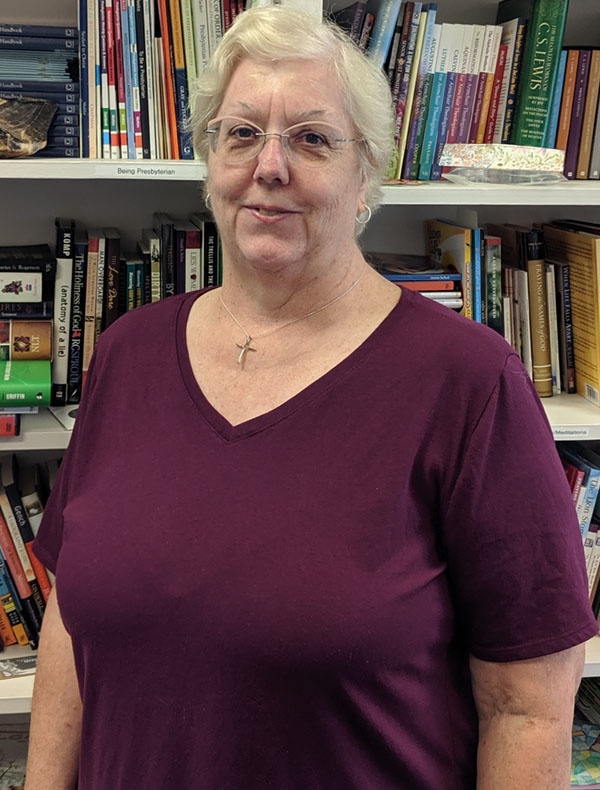 Director of Christian Education
Susan Smith
Susan Smith began working at FPC in October 2011 as the Director of Christian Education. She has a BS in Zoology from Michigan State University and is currently working on her Christian Education Associates certification. She lives in El Dorado with her husband Greg and their two dogs Nate and Blondie. Susan and Greg have two children; Stephen who lives in the Washington D.C. area and Jaclyn who lives in the Orlando, Florida area.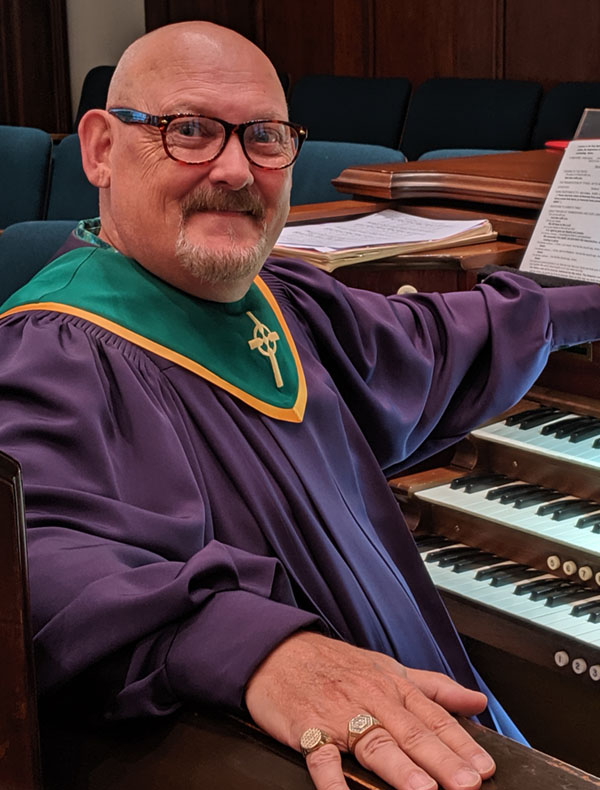 Director of Music and Organist
Ricky Green
Ricky Green came to FPC as organist in 2003 and became the Director of Music in 2013. He holds a Bachelor of Arts in Elementary Education from the University of Arkansas at Monticello and a Master of Divinity from Austin Presbyterian Theological Seminary. Ricky has served churches in Tyler, TX, Lockhart, TX, Cleburne, Tx, and Fordyce, AR before moving to El Dorado in 2001. Ricky currently teaches United States History and Arkansas History at Norphlet Middle School. He has one son, Andy, who serves in the Arkansas National Guard and has 3 grandchildren.
Church Secretary
Charlotte Bradley
Charlotte Bradley began working as the secretary for First Presbyterian Church on July 8, 2019. She received her Bachelor's degree of Elementary Education from The University of Mississippi in 2016. After college, Charlotte became a flight attendant for Piedmont Airlines for a year, until she traveled to Prague to become an English teacher to students, ages 2-6. Charlotte finally decided to come back to El Dorado where she is settling down with her two dogs, Martha and Mavis.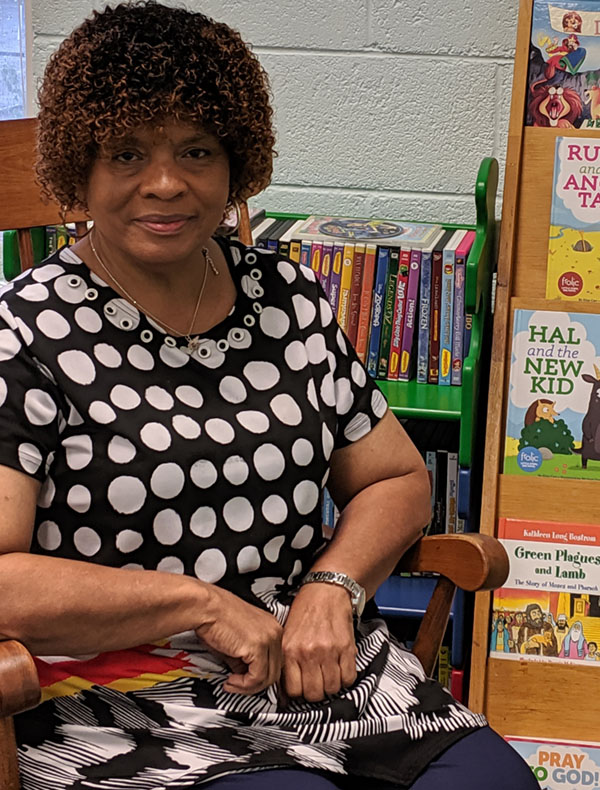 Nursery Director
Jill Thigpen
Jill came to FPC in 1976 to work in our Nursery and became a member of this church. She attended Southern University and South Arkansas Community College and is currently retired from the El Dorado School District. She has two children and 2 granddaughters. Her son Tommy is a coach at UNC and her daughter Marcia lives in Charlotte, North Carolina and works for Wells Fargo.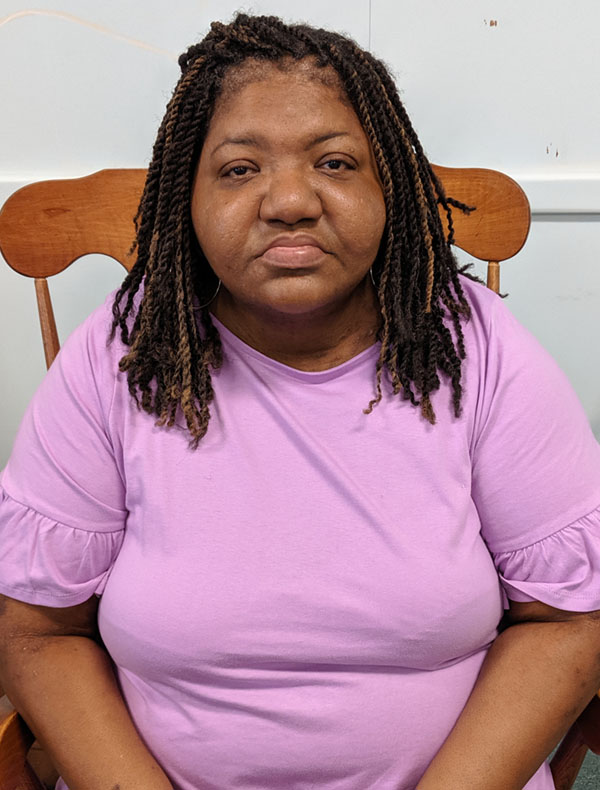 Nursery Assistant
Bonita Kidd
Bonita Kidd joined the Nursery staff at FPC in 1987. She was born in Chicago and later moved to El Dorado to live with her Grandparents. Bonita graduated from El Dorado High School. She attended South Arkansas Community College earning her CDA in Early Childhood Education. Bonita worked for ECCEL for over 15 years working with children with disabilities. She now works at Genesis Childcare Center, starting there in 2017. Bonita has one son, Courtney, and three grandsons with one due in the fall of 2019.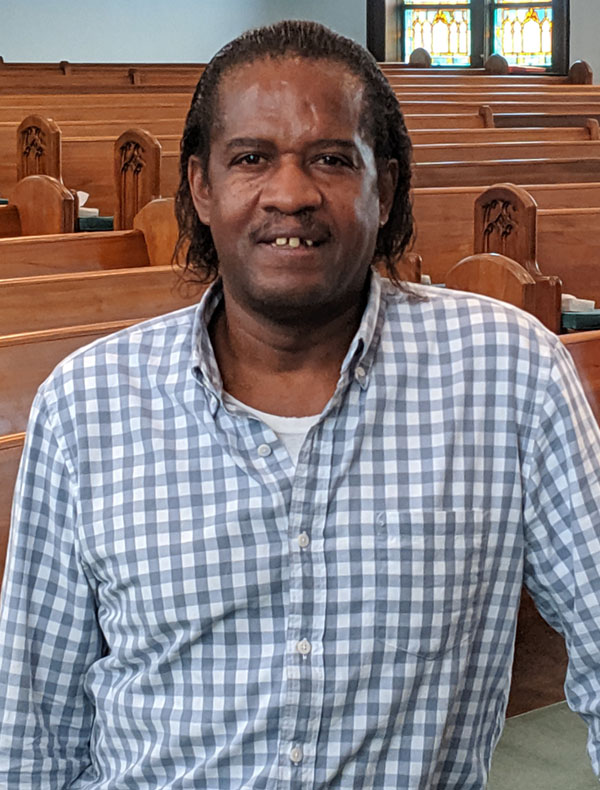 Building Superintendent
Anthony Smith
Anthony Smith began working at FPC November 2013. Originally from Dallas, Texas Anthony is married to Aileen and has four children and a bunch of grandchildren, three boys and four girls. Before coming to work here Anthony worked as a welder. He enjoys gardening, puttering around the yard, relaxing with his animals and cooking. Anthony is energetic and enjoys his work here at FPC.
Elders and Deacons
Session Elders
Elders are active members of the church who serve on the Session (the governing body of the church).  They are persons of faith, dedication, and good judgment, nominated and elected by the congregation. They take part in planning committees, assist in worship, serve communion, and help the church leadership nurture, teach, and encourage the congregation.
At FPC Elders are elected to serve a three-year term and once ordained, they are ordained for life, even if they transfer to another PC(USA) church.
Class of 2019
Sam Allen
Bill Archer
Jimmy Bennett
Roger Landes
Class of 2020
W.L. Cook
Venie Craig
Mike Landers
Alice Luther
Class of 2021
Charlotte Bradley
Elise Drake
Mac Murphy
Joe Nixon
Youth Elder
Emme Landes
Thomas Hatley
Board of Deacons
The ministry of a Deacon as set forth in Scripture is one of compassion, witness, and service, sharing in the redeeming love of Jesus Christ for the poor, the hungry, the sick, the lost, the friendless, the oppressed, those burdened by unjust policies or structures, or anyone in distress.  Persons of spiritual character, honest repute, exemplary lives, brotherly and sisterly love, sincere compassion, and sound judgment should be chosen for this ministry.
Class of 2019
Linda Kalcich - Moderator
Shirley Parr
Sharon Patterson
Julie Trimble
Class of 2020
Sarah Hatley
Shelley Landes
Ann Trimble
Class of 2021
Caroline Calloway
Jan Henderson
Susie LaRue
Margaret Marsh
Committees
Christian Education
The C.E. Committee meets on the Second Tuesday of the month at 5:15 pm in Fellowship hall. The committee is responsible for our annual back to school pancake breakfast and backpack blessing, learning opportunities throughout the week and year, Vacation Bible School, Ferncliff Camp-2-You, potlucks, and two children led worship services each year.
Finance
The Finance Committee meets on the third Monday of the month at 5:30 pm in the Session room. The committee is responsible for all money matters related to the church.
Membership
The Membership Committee meets on the second Tuesday of the month at 5:30 pm in the library. The committee is responsible for maintaining the membership rolls, tracking visitors, and fellowship opportunities for members and visitors. These opportunities include the annual fish fry and a monthly post church fellowship time of food and conversation.
Mission
The Mission Committee meets on the second Tuesday of the month at 4:30 pm in the Parlor. The committee oversees the First Presbyterian Church mission opportunities. This includes Haiti Education Foundation and raising funds for the Bon Berger School in Haiti. Please visit our Serve page for more information regarding mission work done by this church.
Personnel
The Personnel Committee meets on an as needed basis. This committee oversees the staff of First Presbyterian Church including hiring of new staff.
Property
The Property Committee meets on the third Sunday of the month in the Library right after church as needed. The committee oversees the upkeep and use of the church building, grounds, and cemetery.
Worship
The Worship Committee meets on the second Tuesday of the month at 5:30 in the Pastor's office. This committee oversees the weekly Sunday Worship service, special worship services, weddings, and, funerals.
Youth
The Youth Committee meets as needed. The committee oversees all the Youth activities. This includes, the youth Wednesday evening program, Fall Fest, the Easter Egg Hunt, the annual Senior Sunday worship service and lunch, plus fund raising for the annual youth trips to Montreat and Mo Ranch.